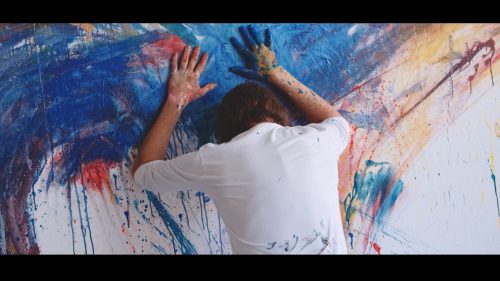 A light-filled studio. A white canvas. A driven painter.
The music video "Follow the Sun" is the first music video for the debut-album "WHAT LIFE´S ALL ABOUT" by the Austrian Band Blinded by Stardust. The Video itself shows an artist in interlude with his painting and a live-performance by the folk-rock band BLINDED BY STARDUST.
While the artist is in a sensual frenzy of colours, the band is adapting the role of the canvas. A drawing with a power act of passion, love, doubt and joy.
"Lose yourself, make mistakes, be insecure – the belief in the good can never die anyway. Life is beautiful", says singer/songwriter Lukas Cioni, describing the intention behind the piece.
The whole Music Video had been filmed and edited by young austrian film students.
Directed by: Lauren Klocker. Creative Idea Director: Lukas Cioni, Blinded by Stardust.
"Follow the Sun" is an upright ode to the good – direct, simple and authentic, just like the members of BLINDED BY STARDUST who paint their own special image with music.
Already described as a group that "combines various creative elements" (NME UK) with an "artistic halo" (Wiener Zeitung) or "excellent art" (Viennarama.at), BLINDED BY STARDUST pursue their own unconventional path and create "carefully arranged Songs and artful songwriting" (Skug Music Magazine).
Release: 17.04.19. Lable: Lindo Records. Online Distribution: HOANZL.